Welded Tube Pros is an authorized distributor for Lap Laser Applications. Lap Laser products were originally developed and proven for the hot steel mill environment. These are not 'laboratory' developed systems used only in clean environments. They were designed to work under harsh conditions such as heat, dust, steam, vibrations, etc. Please select the appropriate category below to view a PDF information sheet.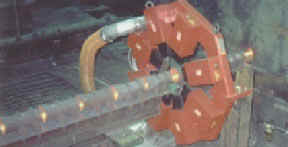 A Lap Laser system installed on a hot bar mill. Note the glowing metal!
Some of the links below are Adobe PDF files. For a free copy of Adobe Acrobat Reader, click below.

Videos of Lap Laser system in operation
(Retrofit for weld heat control on ERW / HF tube mills)
Non-contact Length and Speed Measurement
(Retrofit for line encoders for high speed cutoffs)
Combination Width Length and Profile
(See applications for HOT environments in steel mills)
Length and Speed Detector for Spiral Welded Tube
Measurement: Steel Industry and Rolling Mills