Tube and Pipe Scarf Disposal
Removing, and disposing of tube scarf is a tricky and dangerous business. I.D. and O.D. tube scarf is a very hard material, with very sharp, jagged edges. Tube scarf is softer when it is hot, (can you say brand and cut) but is still a hazardous risk for the mill operator to contend with. The "scarf balls" are heavy, hot, and sharp! Sweed Choppers handle the grueling job of tube scarf processing. Quit your "winding" and get a Sweed scrap chopper!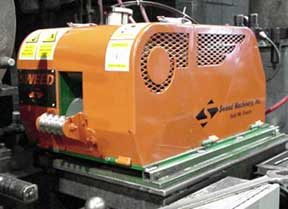 An OD scarf chopper
To play a video clip of an OD scarf chopper in operation, select one of the links below.
Sweed TS450 short video clip MPG file size - 475 KB
Sweed TS450 long video clip WMV file size - 4 MB
Welded Tube Pros is an authorized distributor of Sweed Recycling Systems. We are pleased to offer Sweed ID and OD scarf chopping and handling systems to the welded tube industry. For more Sweed products, visit Recycle Consultants - a Division of Welded Tube Pros.